How Much Can a Ford Tow?
How much your Ford truck can tow depends on which model you drive. With the ability to conventionally tow up to 24,200 pounds, the 2022 Ford Super Duty® truck offers the greatest towing capacity in the Ford lineup. When properly equipped for gooseneck towing, the Super Duty® tow rating can reach up to 37,000 pounds. Meanwhile, the 2022 Ford F-150 can tow up to 14,000 pounds when equipped with a 3.5-liter EcoBoost® V6 engine. Check out our Ford towing capacity chart below to compare specs and determine which truck, van or SUV is best suited for your lifestyle, then head to our Ford dealership near Allendale, MI!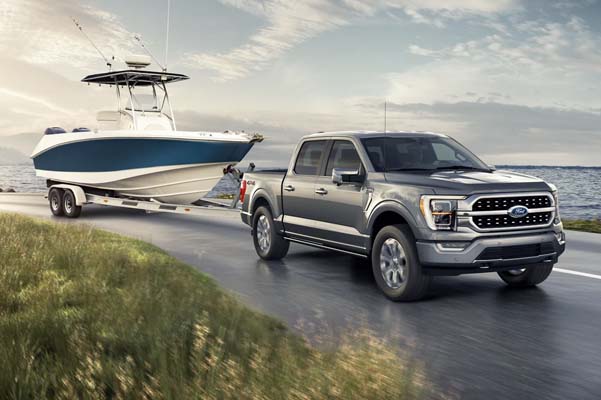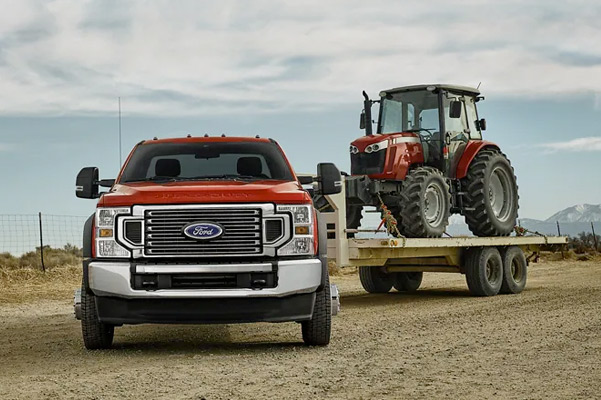 Ford Towing Capacity Guide
While the Super Duty® and F-150 trucks offer the highest tow ratings, you can still tow a small boat or trailer with many of our other models -- including many of our new Ford SUVs and vans. Compare Ford towing capacities below, then reach out to our auto sales team for more information.
| Model | Max. Towing Capacity (Conventional) |
| --- | --- |
| 2022 Ford Super Duty® Pickup (gooseneck) | 37,000 |
| 2022 Ford Super Duty® Chassis Cab (gooseneck) | 34,500 |
| Model | Max. Towing Capacity (Conventional) |
| --- | --- |
| 2022 Ford Super Duty® Pickup (5th-wheel) | 32,500 |
| 2022 Ford Super Duty® Chassis Cab (5th-wheel) | 32,500 |
| 2022 Ford F-150 (5th-wheel) | 14,000 |

| Model | Max. Towing Capacity (Conventional) |
| --- | --- |
| 2022 Ford Super Duty® Pickup | 24,200 |
| 2022 Ford Super Duty® Chassis Cab | 18,500 |
| 2022 Ford F-150 | 14,000 |
| 2022 Ford Expedition | 9,300 |
| 2022 Ford Transit Cutaway/Chassis Cab | 7,500 |
| 2022 Ford Ranger | 7,500 |
| 2022 Ford Transit Cargo Van | 6,900 |
| 2022 Ford Transit Crew Van | 6,500 |
| 2022 Ford Explorer | 5,600 |
| 2022 Ford Transit Passenger Van | 4,600 |
| 2022 Ford Maverick | 4,000 |
| 2022 Ford Bronco | 3,500 |
| 2022 Ford Escape | 3,500 |
| 2022 Ford Edge | 3,500 |
| 2022 Ford Bronco Sport | 2,200 |
| 2022 Ford Transit Connect | 2,000 |
| 2022 Ford EcoSport | 2,000 |
| 2022 Ford Mustang | 1,000 |